Hello everyone. I hope you are well and enjoying the blessed great weather this week. To accompany this, read below for the latest fighting game news to come our way.
Firstly Capcom has shared further details about its next update to its front-running fighting title, Street Fighter V. Details over at the Capcom Unity blog reveal that in addition to the newest DLC character, Ed, being added to the game's available roster, a classic throwback stage in homage to Vega's Spanish-set SFII stage will be made available with next Tuesday's update. You can check out a little bit of Vega using the stage's cage fence to scale, then jump from before clawing at SFV's newest entrant below: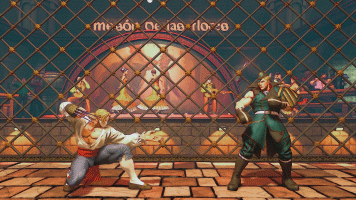 Those fence-climbing antics of Vega's
return to Street Fighter once more
The stage will set players back €3.99/£3.29 or 70,000 FM. The throwback Bison Thailand stage will also be getting added back into the game with the new update, costing €3.99/£3.29 or 70,000 FM.
The overconfident fist fighter Ed will set you back either £4.99 or 100,000 FM if you want to add him to the game's roster.
Now an ongoing bone of contention has been the small number of means with which to accrue Fight Money in the game. The good news however is that as of
May 30th Street Fighter V's new CFN will be made available to all players who download the latest update. This will see a substantial update to SFV's online experience, new balance changes, matchmaking improvements and additional benefits (of which more information can be found right here).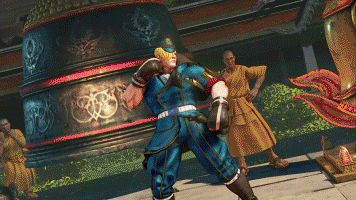 Bison's potential new body sticking it to the old one in style
The beautiful cherry on top lies in the 50,000 FM bonus for signing in at any point from May 30th - June 13th PST (those dates also apply for European/British players too).
The final mention of the new update is further information on the upcoming targets that will be available for completion by those who have purchased the Capcom Pro Tour 2017 Pass. You can find more information about what these entail and what rewards you can obtain from their completion via the handy table below.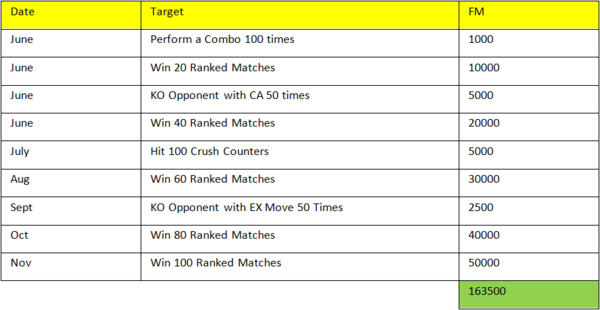 Although I think this should be available in the game proper for those who play SFV regularly,
I understand that Capcom needs to make money (this is the company
who re-released Street Fighter II an unfathomable number of time to date after all)
Admittedly this is a huge swell of information for what is surely one of Street Fighter V's biggest updates so far. What do you think of the updates that are coming to the game? Will you be downloading and playing as Ed when he becomes available with the update? And do you think Capcom should do things like sign-in bonuses (and perhaps more double-exp./Fight Money earnings weekends) going forwards? Any thoughts, please do share them in the

Comments

below. Also like and share this and all my other updates via Facebook, Twitter or your social media network of choice.